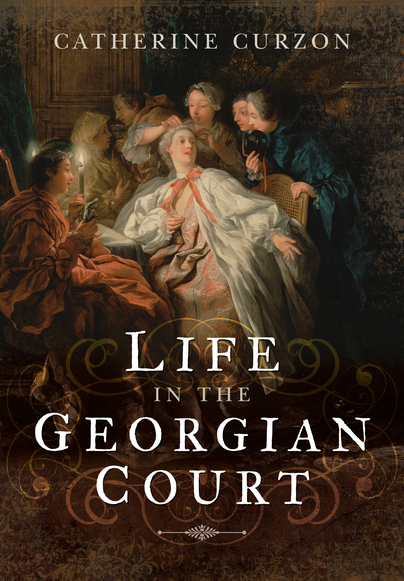 Majesty's
Book of the Month,
Life in the Georgian Court, is
available now.
Kings of Georgian Britain
will be published on 30th March 2017
by
Pen and Sword Books
.
The Crown Spire, a novel of Edinburgh highwaymen co-written with Willow Winsham, is available now worldwide. You can also treat yourself to our French Revolutionary gay romance, The Star of Versailles!
The Mistress of Blackstairs ,

my novel of Georgian Covent Garden is

represented by

Red Sofa Literary and will be published by Endeavour Press.
Meet Me!
You can hear me speak or get a book signed at the events below:
A Celebration

of Jane Austen with Adrian Lukis, 5th March, Huddersfield TICKETS
Join 'Mr Wickham' and the Regency Rejigged dancers for a celebration of all things Austen, marking the bicentenary of the author's death.
Life in the Georgian Court, London, 18th May TICKETS
The history of ruling families and their courtiers will be covered by a number of humorous and tragic anecdotes, which demonstrate that the life of royalty in eighteenth century Europe was often more dangerous than enjoyable.
Past Events
Emma Hamilton: Seduction Late with the Georgian dining Academy, 14th February, The National Maritime Museum, London
Dr Johnson's Birthday Supper
with the Georgian Dining Academy, 22nd September 2016, Dr Johnson's House, London
Sam & George: When Dr Johnson met George III
, 18th September 2016, Lichfield Guildhall
An Evening with Jane Austen, 4th September 2016, The Royal Pavilion, Brighton


Professional Credits
It's always a pleasure to receive a commission, and you can review my credits below:
All About History
Winston Churchill, Hero or Villain?: December 2015
Mutiny on the Bounty: January 2016
The All About History Book of American Presidents: February 2016
15 Craziest Assassination Plots: May 2016
The Great Fire of London: September 2016
The Somme: From Both Sides of the Wire review: September 2016
Versailles review: September 2016
Britain's Forgotten Bodysnatchers review: September 2016
How Absinthe Intoxicated the Bourgeoisie: September 2016
History's Weirdest Weddings: October 2016
The Carlton House Set: October 2016
The History of Sleep review: October 2016
A-Z of Victorian Crime
review: October 2016
Vlad the Impaler: October 2016
Three Sisters, Three Queens review: November 2016
Marie de Guise: Scourge of Henry VIII review: November
2016
BBC History Extra
Extreme Georgian Beauty Regimes: April 2016
Explore History
Capability Brown Gardens: May 2016
WWII Museums in France: May 2016
Octavia Hill, Heritage Hero: May 2016
Landmark Trust Stays: June 2016
Roman Roads in the North of England: June 2016
The Best Temples in Bangkok: June 2016
Eugene Viollet-le-Duc, Heritage Hero: June 2016
Serbian WWII Memorials: July 2016
Strange Places, Kizhi Island: June 2016
Strange Places, Drakelow Tunnels: July 2016
Iron Age Hillforts in South West England: July 2016
Tombs in Lahorre: July 2016
Historic German Palaces: July 2016
Strange Places, Tintic Standard Reduction Mill: August 2016
Hungarian Castles: August 2016
Incan Ruins in South America: August 2016
Presidential History Museums in the USA: August 2016
Lighthouses in the Republic of Ireland: August 2016
Mining Museums in Wales: August 2016
Circus Maximus: August 2016
The Baths of Caracalla: August 2016
Churches in Venice: September 2016
Historic Gardens in Marrakech
:

September

2016
Tin Mines in Cornwall
:

September

2016
Martello Towers in Jersey
:

September

2016
Museum ships in Sweden
:

September

2016
Strange Places, The Italian Chapel, Lamb Holm:

September

2016
Strange Places, Santa Roma de Sau: October 2016
Abbeys in Cambridgeshire: October 2016
Ancient Egyptian Temples: October 2016
The Castles and Palaces of Corfu: October 2016
Hiroshima Memorial Sites: October 2016
Stone Circles in North Scotland: October 2016
My Favourite Places: Alexander Vlahos: October 2016
Living History Museums in the South of England
Communist-Era Monuments in Bulgaria: November 2016
War Memorials in France: November 2016
Mills in Norfolk: November 2016
Ancient Greek Ruins: November 2016
History Answers
A Marriage Made in Hell: September 2015
The Murderous King George I: July 2016
History of Royals
Marie Antoinette's Extreme Makeover: April 2016
Grace Kelly, From Hollywood to Monaco: April 2016
Franz Ferdinand,
The
Jaegermeister
: May 2016
Francis II,
A King Without a Kingdom
: June 2016
Ivan VI, The Lost Tsar: July 2016
Sisi of Austria, Beauty Queen: July 2016
The Mayerling Incident: October 2016
Princess Margaret's Forbidden Love: November 2016
The House of Hanover: November 2016
Jane Austen's Regency World
An Evening with Jane Austen, Interview with Adrian Lukis: May 2016