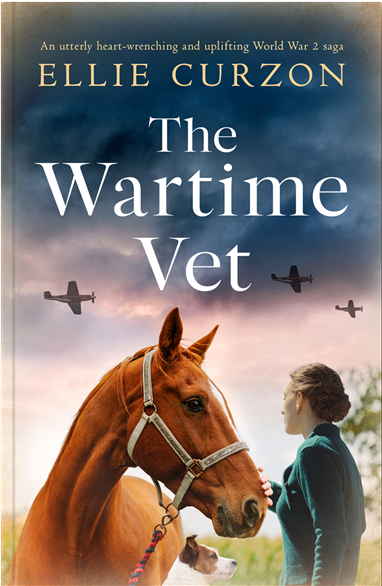 We're so excited to share the cover of our next WW2 saga with you – meet Laura, The Wartime Vet! You can pre-order her story now on Amazon. The Wartime Vet is published on 4th April 2024!
England, 1941. Dedicated local vet Laura cares for the farm animals of the little village of Bramble Heath. But falling bombs aren't the only danger as the war hits close to home…
Despite everyone telling her it's not a suitable career for a woman, Laura has worked hard to become a successful livestock vet. And she's not afraid to serve her country in the village of Bramble Heath, where she and the land girls care for animals and protect the crops everyone relies on during the darkest days of the war. But, just when the country is most in need of food, the farms of the village come under attack…
Desperate to figure out who among the villagers could be doing such terrible things even while German bombs rain down, Laura is relieved when the Ministry respond to her requests for help. But the man they send isn't what she expects. Commander Alastair Seaton is quiet, with a soft, kind smile. And she can't help but be drawn to his shining brown eyes.
But as they start to open up to each other about past heartbreak, disaster strikes. A farm has been set alight. While Laura hurriedly gathers water to fight the flames, Alistair rushes into the burning barn to make sure no one is trapped inside. Will Alistair make it out alive? And can Laura figure out who is behind these attacks before they threaten the outcome of the war?
An utterly unputdownable and emotional historical wartime novel, perfect for fans of Martha Hall Kelly, Diney Costeloe, and Before We Were Yours.
What readers are saying about Ellie Curzon
'Wow wow wow!!!! I read this book in less than 24 hours. So gripping, it had me hooked and unable to put it down until I finished the last page!!!… Love love loved everything about this.' @DianeLikesToRead
'Wonderful… I took this one completely to my heart from the very beginning… You won't want to put down… Brought a tear to my eyes.' @leona.omahony
'WOW… Needs more than 5 stars… Incredible story of love, courage, survival and bravery… Unforgettable… Loved it.' Goodreads reviewer,
'Wow! I loved it… This book will make your heart pound and your palms sweat.' Goodreads reviewer,
'Wonderful… Kept me on the edge of my seat, heart drumming… Left me breathless.' I'm Hooked on Books,
'I flew through this… One of the best World War 2 saga books I've ever read.' Goodreads reviewer,
'Kept me on the edge of my seat! I loved it… I was sad to have it end!' NetGalley reviewer,